Top Tier Business Professionals On-Demand
Source professionals for project, interim and part-time roles in 10 business days or less
Top Tier Business Professionals On-Demand
Source professionals for project, interim and part-time roles in 10 business days or less
Canada's On-Demand Business Talent Source
Clients with an immediate need for experienced talent trust SeasonedPros.ca to source professionals for project, interim and part-time roles. Our proprietary platform and national database of professionals with over 20 years experience enable us to guarantee 2-4 vetted candidates in 10 business days or less.
Fill interim talent gaps, complete critical projects and source contingent expertise quickly by accessing our lineup of experienced executives, managers and subject matter experts.
"We needed a part-time c-suite executive and SeasonedPros.ca was able to provide us with highly qualified candidates within four business days. I would highly recommend SeasonedPros.ca for their efficient turnaround, professional service and their ability to supply well-qualified candidates."
"SeasonedPros.ca consulted with me to understand our needs and challenges, developed a job description outlining key responsibilities and qualifications and activated the position in its database and as a result the Human Resource manager that I needed started the following week."
"What we appreciate about SeasonedPros.ca is not only do they provide experienced candidates, but they think outside the box, and give us individuals who are ready to hit the ground running."
"We needed a Superintendent/Project Manager to step into a project asap for a term of a few months. SeasonedPros.ca provided several candidates for our selection within a week and after a few interviews, we hired one of the candidates who started on the job just a few days later. Couldn't be happier with the service or the result. I'll be calling them again!"
"It's a unique way a business can fill a gap for good value. SeasonedPros.ca is something you can keep in your back pocket and pull it out when you need it."
Immediate Access to Professional Roles and Skills Across Industries
We continue to build the most experienced talent pool in Canada – each professional in our national database has more than 20 years of business experience spanning an array of industries and roles.
Do you have the skills and expertise to meet the needs of our clients for short-term engagements?
World Class Talent + Personal Service + Technology
We collaborate with you personally from the moment we discuss your talent challenge to the moment we deliver. Our proprietary platform and processes don't replace the human element – they enhance it, enabling us to quickly place the most experienced professionals at your fingertips.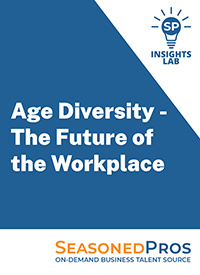 Talent shortage and an aging demographic are driving a trend to capitalize on the instinct and experience afforded by an age-diverse workforce
Contact SeasonedPros.ca to leverage on-demand experienced talent.